Mummon Chicken nuggets mixed with French Fries 450g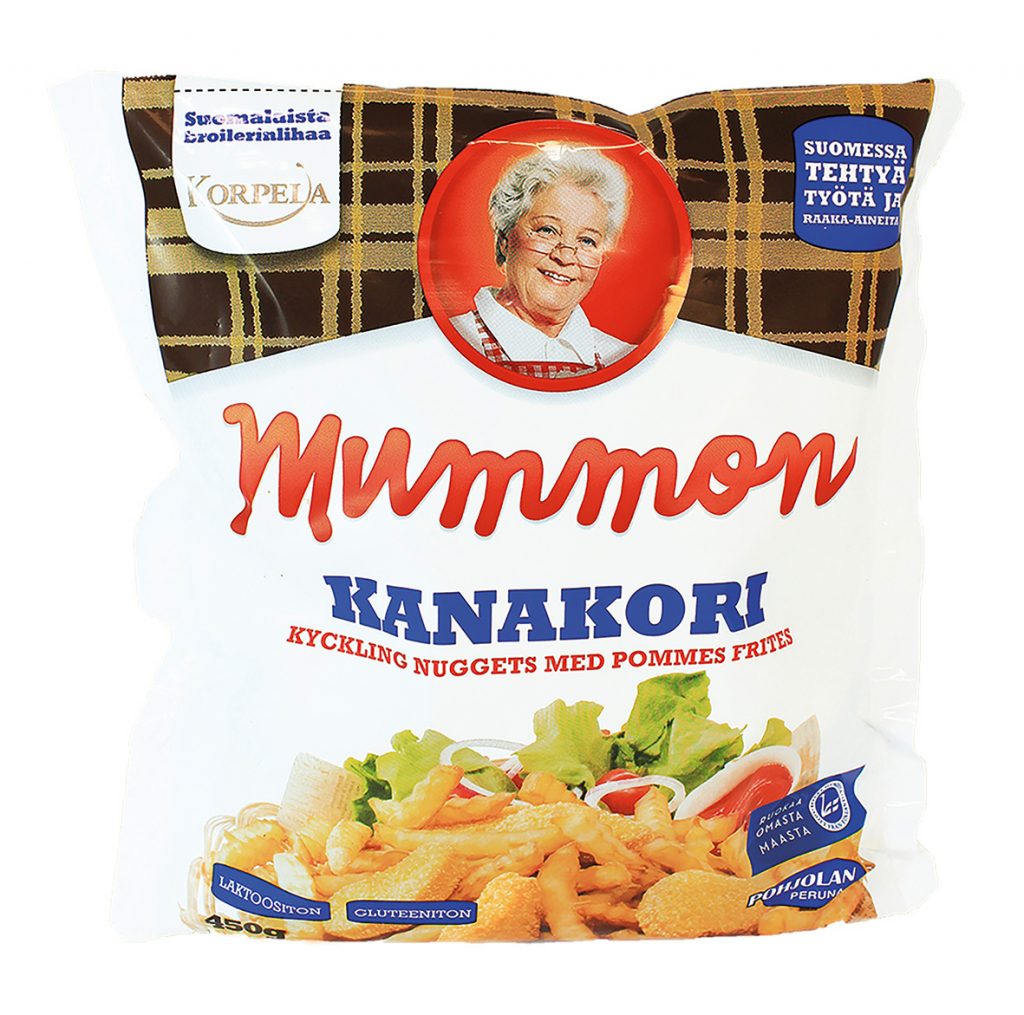 The packaging is made of polyethylene. It is suitable for plastic recycling. Can be disposed of by burning, for example, among wood. (PE-HD 02)
(6430)
EAN 6430028234301
Ready mix of 100% Finnish chicken meat and Finnish Mummon french fries.
Chicken nuggets mixed with
French Fries 450 g
Sales unit 18 bgs x 450 g = 8,1 kg
EUR-pallet 32 boxes (259,2kg)
Preparing in an oven: Preheat oven to 220 degrees. Spread the frozen chicken nuggets and french fries out on a baking tray in a thin layer. Bake for about 15-20 minutes or until golden brown. Add some salt and serve immediately.
Preparing in a deep-fryer: Fry in 175 degrees in two batches for about 2 minutes.
French fries 64%, (Finnish potato, rapeseed oil), chicken nugget 36% (chicken meat (Finnish), water, rapeseed oil, panering:  [potato, emulsifier (E471), rapeseed oil, stabiliziser (E450), antioxidant (E300), acidity regulator (E330, E331)], wet breading: [corn powder, rice starch salt], pea protein, modified corn starch (E1422), corn starch, salt, plant fiber (citrus), spices (black pepper, cayanne pepper, garlic powder).
Made from Finnish chicken meat. Meat content 27%. Salt content 0.4%. Egg-free and soy-free.
Energy 730 kJ / 175 kcal
Fat 7.4 g
– of which 0.6 g saturated
Carbohydrate 20 g
– of which sugars 0.6 g
Protein 6.5 g
Lactose 0 g / 100 g
Salt 0,4 g
In the freezer (-18°C degrees) best before date.
In the freezer compartment of the refrigerator for 5 days.
At room temperature 0.5 days.
No refreezing after melting.