Mummon Delicious Sausage cubes mixed with French Fries 500g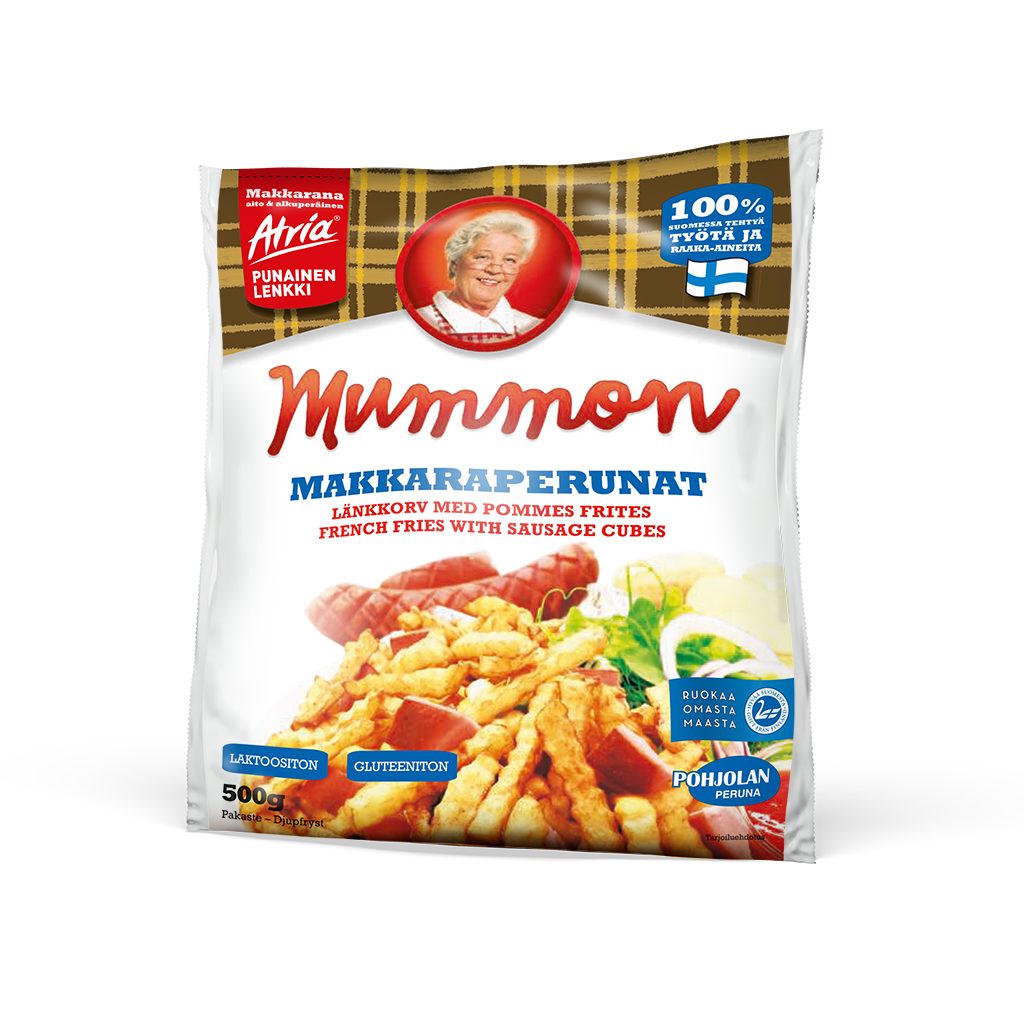 We combined two favorites, Mummon French Fries and Atria's Red Sausage. Prepare food quickly and easily.
Oven 220 °C for about 15-18 min.
Deep fryer 175 °C for 2-3 minutes.
Delicious Sausage cubes mixed with
French Fries 500 g
sales unit 20 bgs x 500 g = 10 kg
EUR-pallet 32 boxes (320 kg)
Preparing in an oven: Preheat oven to 220 degrees. Spread the frozen french fries with sausage cubes out o a baking tray in thin layer. Bake for about 15-18 minutes or until golden brown. Add some salt and serve immediately.
Preparing in a deep-fryer: Fry in 175 degrees in small portions for about 2-3 minutes.
French fries 71 % (Finnish potato 67 %, rapeseed oil), sausage 29 % (pork, water, potato starch, lard, beef, mechanically reclaimed pork (Finland), tallow, iodised sait, pork connective tissue protein, potato fiber, stabilizer E 450, beef fat, dextrose, maltodextrin, antioxidant E 301, seasoning (coriander, ginger, white pepper, fennel), sodium nitrite preservative, aromas (e.g. paprika).
Park and beef origin Finland. Meat content 12 %. Meat and ingredients comparable to meat 16 %. Salt content 0,6 %.
The average nutritional value per 100 g of product
Energy 737 kJ
Energy 176 kcal
Fat 9,5 g
– of which saturated fatty acids 2,6 g
Carbohydrates 18,2 g
– of which sugars 0.5 g
Protein 3.5 g
Salt 0.6 g
In the freezer (-18°C degrees) best before date.
In the freezer compartment of the refrigerator for 5 days.
At room temperature 0.5 days.
No refreezing after melting.